Happy New Year. Is this the year it's all supposed to end?
Well, we are still here, and I hope your December was fulfilling in all the ways a December can be.
And if it wasn't, that's what this month is for.
Our December was notable in two ways:
1. It was mostly green. And now that it is 6 degrees, I'm all indignant. How dare winter arrive?
2. Miss C got her first stitches. On Christmas Eve. The wound acquired while I was upstairs and she played her solo game of 'Jane Eyre' downstairs. This game involved her sprinting around wearing a dress she deems Jane-ish, in stockings, holding a pottery bowl. It took one smooth patch of hardwood floor to end that game in blood. And now I've imposed rules to her game: Jane may only run barefoot, and may not carry pottery while doing so. We stitched her up and she was delighted to look at her arm and find her stitches were purple.
I wanted to mention a couple goodies that entered our home as we frolicked in rampant consumerism.
If you have a Little House fan among your people, I discovered this lovely coloring book from artist and writer
Cheryl Harness:
Miss C flipped through until she found a picture of Nellie Olsen.
And then colored her green.
Then there is this book,
The Vegetarian Mother's Cookbook
, that I received last year.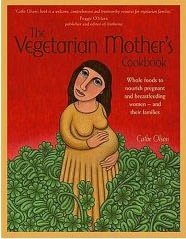 And then I lost it.
And then I got a new one this year.
And then I found the old one.
So now I have two, and who knows if I'll even make some awesome food from this book?
I put "start liking kale" and "be more vegetarian-ish" on my resolutions list.
But then I end up eating cookie dough and watching
Portlandia
.
Anyway, do you want it? This beautiful new cookbook?
If you do, leave a comment or send an email (email subject: Cookbook).
If there is one contender, it's yours.
Otherwise, I'll put names in a hat and have Miss C pick one out.
And I'll send it to you.
Even if you live in Georgia.
Especially
if you live in
Georgia
.