Girls from preschool to preteen have fallen in love with Hannah Montana, a love affair that Gary Marsh, president of Disney Channel, described as "beyond our wildest expectations". The series premier scored record ratings for Disney with 5.4 million viewers.
In one of her popular songs, Just Like You, Miley Cyrus, who plays Hannah, sings:
Can't you see
I'm just an ordinary girl
Living in an extra-ordinary world
Trying to live
Trying to learn
Trying to just be who I am
Who I am
I got everything I've always wanted
Living the dream (the dream)
So yeah, everything I've always wanted (always wanted)
isn't always what it seems
Keep this in mind: the average age of a girl attending a Hannah Montana concert is
8
.
But it is not uncommon for there to be 3 and 4 year olds in attendance
.
It
is
unusual for there to be 17 year olds at her concert.
(In a
recent interview with Ryan Seacrest, Cyrus stated that her average fan is her age: 17).
Little girls who have been religiously following their favorite teen pop star will be able to see her make her debut into womanhood, which apparently involves peacock feathers, a cage, breast grabbing, laying prone, and then calling the video "a collaborative effort."
For your viewing pleasure: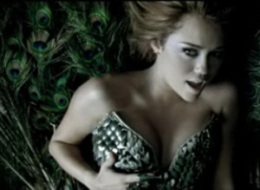 http://www.youtube.com/watch?v=sjSG6z_13-Q
I wonder how that collaborative effort went:
Cyrus: So.We're making a video. And I know that you care about me, and have my best interests at heart. Give me some ideas.
Producers: Well, we could dress you in feathers, lock you in a cage, and have you grab your breasts.
Cyrus: Perfect.
Producers: It will be different from all other videos. It will stand alone. It will be edgy, and when you are interviewed, you can call it "edgy". You can talk about how your viewers, the ones who are 17, have been following you.
Cyrus: Yeah, that's just what I was thinking. Because my viewers are 17. High school seniors.
Producers: Yes. That's right. They'll be going off to college soon, and taking their Hannah Montan blankies with them.
Producers:
And also their Hannah Montana doll.
Producers:
Remember: say edgy a lot. And also, make sure to say that although the video is sexy, the lyrics are what are important. You could also say how this is
unique
work for a female artist.
Cyrus
: Okay. Edgy. And lyrics. How old did you say my fans are?
Producers
: 17. Say edgy again.
Cyrus
: Edgy.
Producers
: Great. You're one of a kind. You are a different female artist. Now, go talk to the press.