I grabbed
this book
at the library while I was checking out: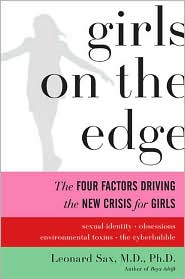 Like an impulse buy, except with a lower interest rate.
It was filed under "New NonFiction" right next to The Bellyfat Cure.
I'm not far enough in to give My Two Cents on it yet, but there is a study cited that I thought was interesting.
It was run by social psychologist
Barbara Fredrickson
and explored self-objectification.
The author of the Girls on the Edge, Dr. Leonard Sax, describes it as such:
Dr. Fredrickson and her colleagues recruited college men and women, then randomly assigned each volunteer to wear either a bulky sweater or swimsuit. The men wore swim trunks, and the women wore one-piece bathing suits. Each volunteer was sitting in a dressing room: no windows, no observers. Each volunteer was then asked to take a math quiz while sitting in the dressing room. Fredrickson and her team then compared how women wearing swimsuits performed on the quiz compared with women who were wearing bulky sweaters, and likewise for the men.
The results?
Men can rock math tests in swim wear, and even do slightly better than men wearing frumpy sweaters.
Women can rock math tests in frumpy sweaters, but do waaaaaaay worse while wearing a swimsuit.
Sax goes on
[Fredrickson] found that these women were objectifying themselves. Just wearing a swimsuit made these young women focus on their own bodies as objects to be evaluated and rated.
So the word is, if your daughter is off to school in a midriff shirt and JUICY pants, "at some level she's going to be thinking about, analyzing, and judging her own body when she ought to be thinking about geometry or Spanish grammar." Or when she ought to be thinking about how her mama gonna whoop her when I find out she took my JUICY pants! Give me those.
Now, where did I put that oversized reindeer sweater Miss C got for Christmas? I think I'm going to order a few more, sizes 4 Toddler through 18 I Hate My Mom.